Would 'Lab Grown Everything' Really Save Us? A talk by Oron Catts
Date/Time
Date(s) - Wednesday, May 1, 2019
7:00 pm - 9:00 pm
Location
Biotech Without Borders
Categories No Categories
The Tissue Culture & Art Project (Oron Catts and Ionat Zurr) is recognized as the first to grow (2000) and to eat (2003) lab grown meat as well as the first to grow tissue engineered leather (2004).  It encompassed critical art projects that were geared towards highlighting the radical shifts in our understanding of, and our relationships with the concept of life. More than ten years later cellular agriculture and biofabrication are hailed as solutions to many environmental issues.  But is this really the case? This talk will begin with the original projects, follow the trajectory of the fields of cellular agriculture and biofabrication, and present some of the recent works of The Tissue Culture & Art Project that are in dialogue with these recent developments, including a series of off grid incubators powered by compost.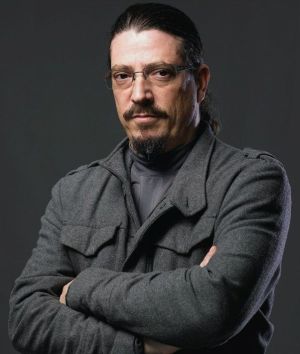 Oron Catts is the Director of SymbioticA, The Centre of Excellence in Biological Arts, School of Human Sciences, The University of Western Australia. Catts interest is Life; more specifically the shifting relations and perceptions of life in the light of new knowledge and it applications. Often working in collaboration with other artists (mainly Dr. Ionat Zurr) and scientists, he has developed a body of work that speaks volumes about the need for new cultural articulation of evolving concepts of life. He is an artist, researcher, designer and curator whose pioneering work with the Tissue Culture and Art Project which he established in 1996 is considered a leading biological art project. In 2000 he co-founded SymbioticA, a biological art research centre at The University of Western Australia. Under Catts' leadership SymbioticA has gone on to win the inaugural Prix Ars Electronica Golden Nica in Hybrid Art (2007) the WA Premier Science Award (2008) and became a Centre for Excellence in 2008. In 2009 Catts was recognised by Thames & Hudson's "60 Innovators Shaping our Creative Future" book in the category "Beyond Design", and by Icon Magazine (UK) as one of the top 20 Designers, "making the future and transforming the way we work". Catts' ideas and projects reach beyond the confines of art; his work is often cited as inspiration to diverse areas such as new materials, textiles, design, architecture, ethics, fiction, and food.
Image credits:
Vessels of Care and Control: The Compostcubator 4
The Tissue Culture & Art Project (Oron Catts & Ionat Zurr) with Devon Ward
Compost (wood chip and horse manure), metal frame and stairs, water, pump, custom-made incubator, living cells.
Dimensions Variable