Biomess and Other Recent Works- A Talk by Oron Catts
Date/Time
Date(s) - Sunday, December 2, 2018
7:00 pm - 9:00 pm
Location
Biotech Without Borders
Categories No Categories
Oron Catts is a mesmerizing speaker, whose focus on the semi-living in his work gives him a unique connection to Biotech without Borders. He's here all the way from Perth, Australia. Don't miss this talk!
Biomess, currently on show at the State Art Gallery of Western Australia is a collaboration with the West Australian Museum. The installation includes (mainly) non charismatic specimens from the museum's collection that defy common ideas about self, gender, identity and individuality as well as liveness, artificiality and technology. In addition to preserved/taxidermised specimens this installation presents living organisms and technologically "designed" and manipulated life forms. It uses luxury retail design tropes to ask what kind of aesthetics should be used when life becomes a commodity or objects of desire. How do we make sense of living forms that were constructed to blur what we consider specimen, scientific tool, product and an art object?
Another related project is titled Crossing Kingdoms. This is a collaboration with the UK National Centre for Mammalian Synthetic Biology at the University of Edinburgh where we are attempting to fuse human and yeast cell to create a life form the exists across biological kingdoms. The work in progress on this project have been presented recently at the Edinburgh International science Festival.
Lastly the talk will present a fascinating project in which he followed Victor Frankenstein's footsteps; Oron wanted to find some material evidence to the fictional events described in the book published exactly two hundred years ago. He was particularly interested in Frankenstein's second attempt to create a life form, a female companion to the creature he created in Ingolstadt. To his surprise, he found some evidence that may shed new light on that chapter of Frankenstein; to the extent that it is quite feasible that Victor Frankenstein failed in his attempt of his second creation and needed to retract his claims for higher moral ground and face this failure.  In Oron's own words, "The issue of low success rates in the reproducibility of experiments has dogged science from its very beginning, and makes me wonder if, when scientists retrospectively claim the high moral ground in their research, they do this instead of admitting failure or that they have spent their career barking up the wrong tree? Is this one of the hidden lessons in Shelley's story?"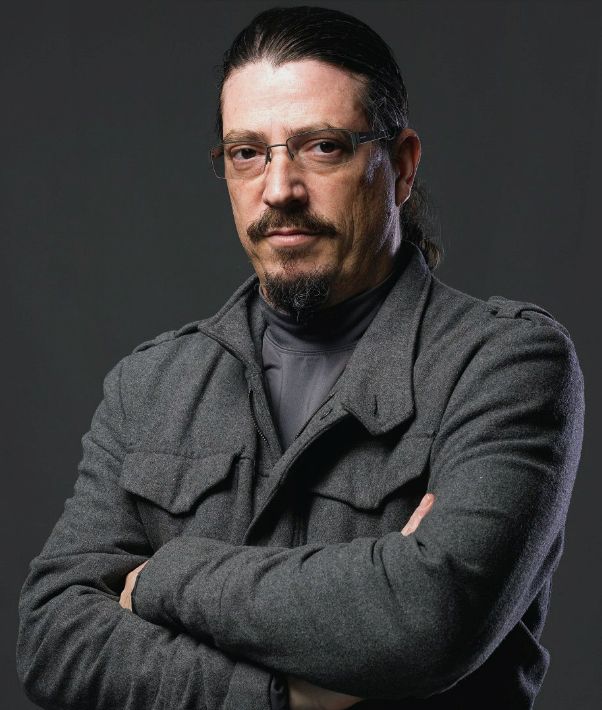 Oron Catts is the Director of SymbioticA, The Centre of Excellence in Biological Arts, School of Human Sciences, The University of Western Australia.
He  is an artist, researcher, designer and curator whose pioneering work with the Tissue Culture and Art Project which he established in 1996 is considered a leading biological art project. In 2000 he co-founded SymbioticA, a biological art research centre at The University of Western Australia. Under Catts' leadership SymbioticA has gone on to win the inaugural Prix Ars Electronica Golden Nica in Hybrid Art (2007) the WA Premier Science Award (2008) and became a Centre for Excellence in 2008.
In 2009 Catts was recognised by Thames & Hudson's "60 Innovators Shaping our Creative Future" book in the category "Beyond Design", and by Icon Magazine (UK) as one of the top 20 Designers, "making the future and transforming the way we work".
Catts interest is Life; more specifically the shifting relations and perceptions of life in the light of new knowledge and it applications. Often working in collaboration with other artists (mainly Dr. Ionat Zurr) and scientists, Catts have developed a body of work that speaks volumes about the need for new cultural articulation of evolving concepts of life.
Catts was a Research Fellow in Harvard Medical School, a visiting Scholar at the Department of Art and Art History, Stanford University, and a Visiting Professor of Design Interaction (2009-2012), and a Professor at Large in Contestable Design (2015-2017) at the Royal College of Arts, London. In 2012-2013 he set up a biological art lab called Biofilia – Base for Biological Art and Design, at the School of Art, Design and Architecture, Aalto University, Helsinki, where he was a Visiting Professor.
Catts' ideas and projects reach beyond the confines of art; his work is often cited as inspiration to diverse areas such as new materials, textiles, design, architecture, ethics, fiction, and food.
Catts curated nine exhibitions, developed numerous artistic projects and performances. His work was exhibited and collected by museums such as MoMA NY, Mori art Museum, NGV, GoMA, Yerba Buena Center for the Arts, San Francisco, Ars Electronica, National Art Museum of China and more.
His work was covered by The NY Times, Washington Post, Wired, New Scientist, Time, Newsweek and  other TV, radio, print and online media